Education
Dean's Message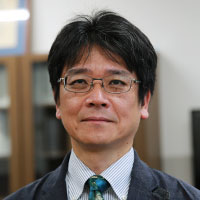 Dean of SGHSS
Prof. Kazunori Hayanagi
Outside the Obvious
The rush of excitement when embarking on a new journey… While the streets we see and the voices we hear are foreign to us and make us anxious, they also feel familiar and cozy. During a journey, we experience new events while simultaneously reaffirming the core of our existence.
Education at university is likened to a "journey for knowledge," not only because you explore a discipline that is not familiar to you but also because by doing so, you renew your perception of your own existence and the relationship between yourself and the world. This is particularly important in the study of social sciences. From now on, you will meet new people and learn from the reciprocal relationships that you will form; that is, you will learn about various societies and their cultures, and you will be unable to detach your identity from it. Always asking yourself "what kind of person does this make me?" and "what would I do if it were me?" will ensure that you learn about people and society.
The School of Global Humanities and Social Sciences was established in 2014 for providing education aimed at collaboration with others and the demonstration of leadership and partnership amid globalization. As the word suggests, globalization is the global integration, movement, and circulation of people, goods, currencies, and information. It creates both tension and fusion between local and niche diversity. In this globalizing world, we will combine the strengths of people with different cultural backgrounds, compensate for each other's shortcomings, live together, and accomplish our goals. The "journey for knowledge" offered by the School of Global Humanities and Social Sciences is a journey toward the acquisition of skills, knowledge, and the ability to think, which are necessary to live and thrive in the era of globalization. In addition to classroom lessons, opportunities are provided to learn more about oneself while meeting new people through "co-living" in the dorms and at the English café, as well as through fieldwork and student exchange programs, among others.
This "journey" is not a mere package tour. As academic years go by, there will be more opportunities to create the "map" and plan the itinerary on your own. The academic staff will provide advice as mentors in your "journey," but the protagonists in this "journey" are you — the students. The important thing in this "journey" is to experience the reformation of common sense and preconceptions about people and different societies, that is, reformation of what everyone believes to be "normal" and what you yourself have deemed "obvious." When you step outside the obvious, the world and the people in it will appear to you in a new light and with various possibilities. After all, this experience is the ultimate purpose of the education provided by the School of Global Humanities and Social Sciences. Bon voyage!
Kazunori Hayanagi
Dean, School of Global Humanities and Social Sciences